Horse rider thanks medics for saving her life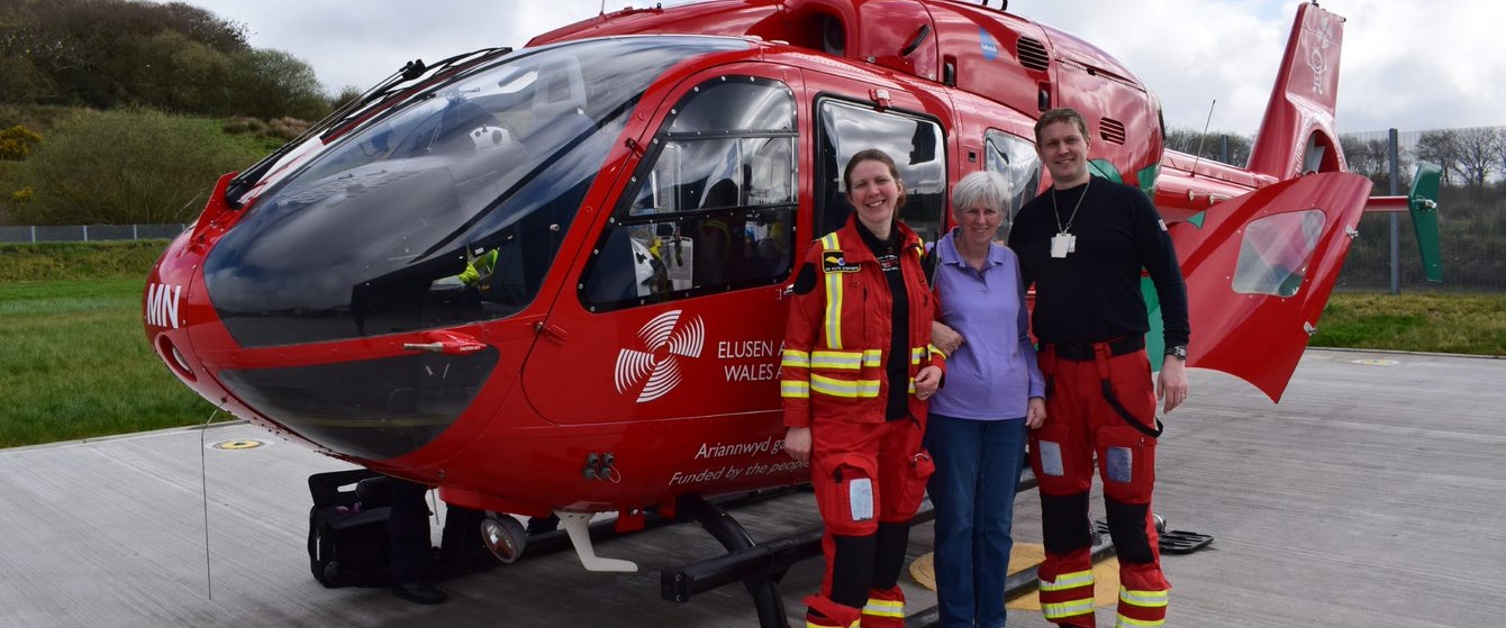 Monday 13 March 2017
A horse rider who was in a coma for ten days after a horrific fall has praised the Emergency Medical Retrieval and Transfer Service (EMRTS Cymru) medics and hospital surgeons who saved her life.  
Jan Hartland suffered severe chest injuries and a perforated lung after falling while riding last summer.  
Although she remained in Morriston Hospital until the autumn, the 64-year-old from Llanharan is now back in work.
With her own horse ill, Jan was on a friend's horse at Southerndown Common on 31st August last year.  
Jan said: "We were trotting but there was somebody else riding and they were galloping round and round, which set our horses off.I don't remember what happened but suddenly the horse was going faster and I was hanging off. The next thing I knew I was on the ground. My friend later told me I sat up and said I was okay and then I completely collapsed.  
"A paramedic arrived and made the decision to call the air ambulance. He said I wouldn't survive if I went by road."  
Jan had suffered a severe flail chest – a life-threatening condition where a segment of the rib cage breaks off and becomes detached from the rest of the chest wall – and a perforated lung, and was struggling to breathe.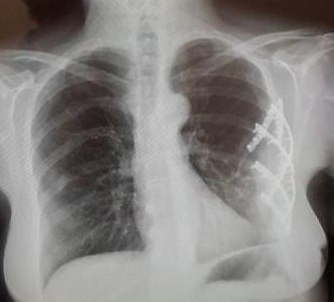 The EMRTS Cymru medics on board the Wales Air Ambulance Charity helicopter who treated Jan were Dr Kate Stephens and Critical Care Practitioner Chris Connor.  
They gave Jan a blood transfusion and a series of powerful painkillers, then put a tube into her airway so she could be placed on a ventilator.
The crew also gave Jan an anaesthetic, as putting her to sleep reduced the risk of agitation and made the process of transfer to hospital by air more comfortable.  
These lifesaving treatments are not a part of standard paramedic practice.  
The flight to Morriston Hospital took twenty minutes, a journey that would have taken twice as long by road.  
Morriston Hospital trauma consultant Ian Pallister said Jan had a severe flail chest. It was so severe the chest had been stove in – an extremely serious injury with a high mortality rate.  
Professor Pallister said: "In close liaison with intensive care doctors we operated on her ribs to reposition them correctly and fix them so she could begin to breathe normally again.We used implants – tiny, purpose-made plates and screws – to reposition her ribs.   
"Jan did have some problems with infection but as she was previously very healthy she responded really well to treatment.  
"She is very lucky to be alive. If it hadn't been for the EMRTS service she wouldn't have even made it to the hospital."  
Jan was in an induced coma for ten days. She required two further operations because of the infection and was in Morriston Hospital for five weeks before coming home in October.  
"All the staff in Morriston's intensive care unit and all the doctors were absolutely brilliant. I was in Ward A after intensive care. It's a really busy ward but they were wonderful. They really took care of me and they were always cheerful and positive.
I would also like to thank my local district nurses."  
Jan has been given the all-clear and earlier this year returned to her part-time administration job with a cosmetics company Horise
She still experiences some muscle discomfort and has told husband, Ian, she will not ride horses again. But she knows it could have been much worse.  
Jan said: "The paramedic who was first at the scene saved my life by calling the air ambulance. Then the team on the helicopter continued to save my life.  
"What Professor Pallister and his team did saved my life as well. Every decision everybody made contributed to me being here now."