Welsh flying medic named Gwent Doctor of the Year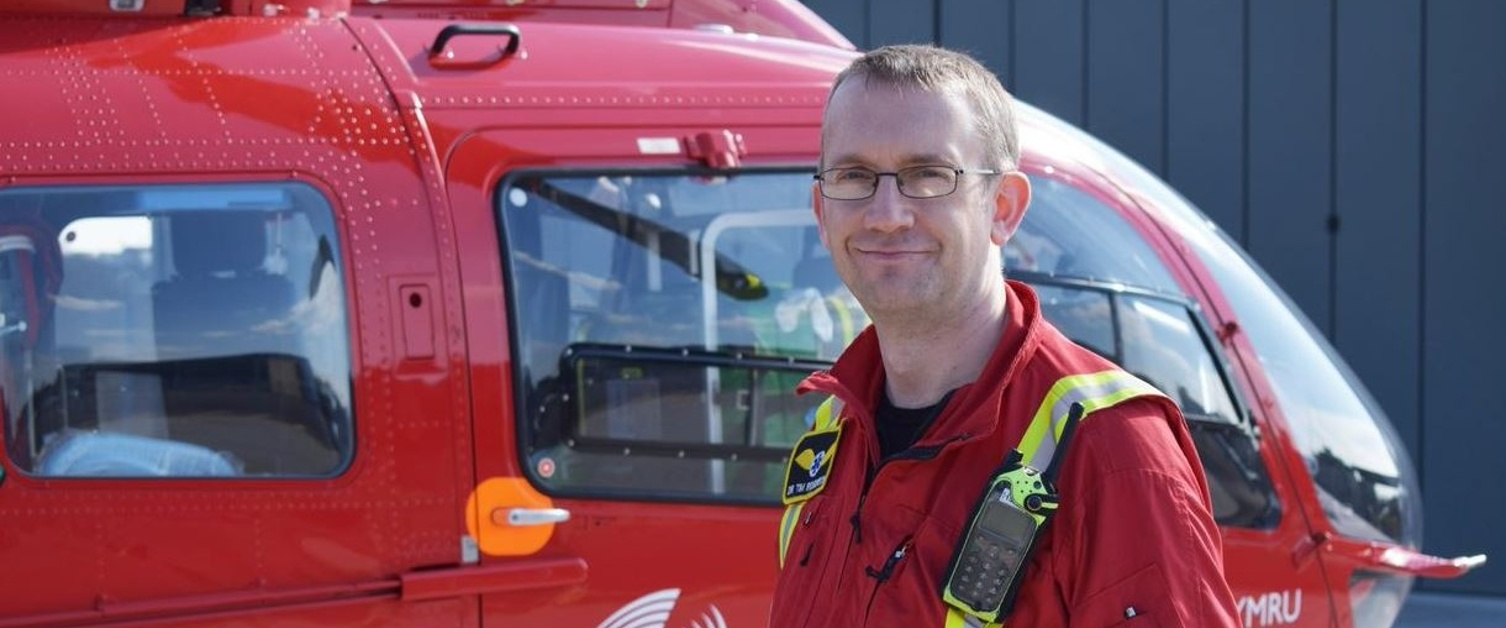 Friday 18 October 2018
An EMRTS Cymru consultant has been named doctor of the year for his major contribution to the care of seriously ill and injured patients in Gwent and across Wales, and for supporting doctors of the future.  
Dr Tim Rogerson received the accolade during the South Wales Argus Health and Care Awards last night (18/10/18) during a prestigious ceremony at Chepstow Racecourse.  
Tim is an emergency medicine consultant who has worked in the Royal Gwent Hospital since 2013. Alongside his hospital work, he undertakes regular shifts for EMRTS Cymru on board the Wales Air Ambulance (WAA) Charity helicopters as one of its 'flying medics', a role he has had since 2015.  
Also in 2015, Tim launched the ground-breaking Physician Response Unit (PRU), a road-based team of consultants and paramedics with the aim of reducing hospital admissions across Gwent by attending patients in the community.  
In his role as Deputy Head of the All Wales School of Emergency Medicine, Tim plays a major role in the training and development of the future generation of doctors working in emergency medicine, not just in Gwent but also across Wales.  
Professor David Lockey , director of the 'Welsh Flying Medics' service, said: "Tim's extensive contribution to emergency medicine has saved many lives across Gwent and beyond – not just through his own clinical expertise but also through the support he has given the next generation of doctors. His work has also been beneficial to the NHS, with his contribution to the Wales Air Ambulance and PRU relieving pressure on frontline services, both in terms of resource and finance. Tim is a worthy recipient of this award."  
Last year, Tim was responsible for a very rare lifesaving procedure at the scene of an incident in Mid Wales while working as a flying medic on board a Wales Air Ambulance. It is a medical intervention that has been praised worldwide and saw him receive a national award.  
Angela Hughes, Wales Air Ambulance Chief Executive, said: "We are all very proud of Tim's achievement. His actions embody the aim of the Charity as we strive to deliver the highest standard of care for the people of Wales, wherever they are in the country."  
Thanks to a unique Third Sector-Public Sector partnership between WAA and NHS Wales, the air ambulance provision in Wales is one of the most advanced in Europe. It has resulted in the creation of the Emergency Medical Retrieval and Transfer Service (EMRTS Cymru), more commonly known as the 'Welsh Flying Medics', which provides pioneering pre-hospital critical and emergency medical care across Wales. The service, which takes the emergency room to the patients, is made up of consultants and critical care practitioners who are able to deliver innovative emergency treatments usually not available outside of a hospital environment. The medics are now able to conduct blood transfusions, administer anaesthetics, offer strong painkillers, and conduct a range of medical procedures – all at the scene of an incident. In addition, patients are airlifted to the most appropriate hospital for their illness or injury, saving valuable time.  
It is the generosity of the Welsh public, through donations to the WAA Charity, which keeps the helicopters flying. WAA was launched on St. David's Day in 2001. From humble beginnings as a one-helicopter service flying from Swansea, it has grown into the UK's largest air ambulance operation that can be anywhere in Wales within twenty minutes. At a cost of £6.5m per year, it now runs four aircraft with bases in Caernarfon, Welshpool, Llanelli and Cardiff. It is the only air ambulance charity based in, and dedicated to, Wales.