Baby reunited with her high-flying life-savers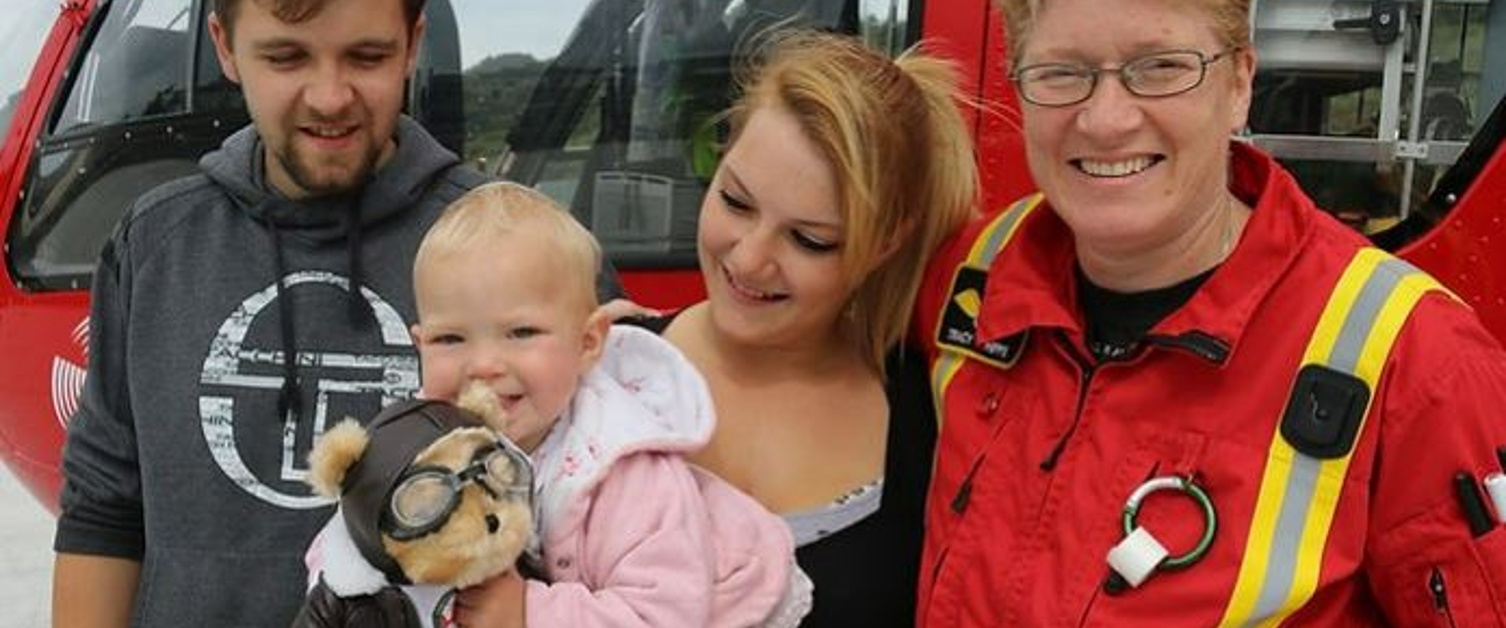 Thursday 9 February 2017
A baby girl has been reunited with the Emergency Medical Retrieval and Transfer Service (EMRTS Cymru) medics who saved her life – one year after they treated her for a near-fatal lung condition.  
Today, 18-month old Ellie Purcell from Llandysul in Ceredigion is a bright and bubbly toddler who her mother Sarah Beard describes as 'thriving'.  
In September 2015 things were very different when a then four-month-old baby Ellie was fighting for her life following a bleed on her lungs. She required immediate emergency care.  
With time of the essence, the Children's Wales Air Ambulance (the specialist division of the Wales Air Ambulance Charity) flew Ellie to a specialist unit at the University Hospital of Wales in Cardiff.  
The NHS Consultants and Critical Care Practitioners (CCP) on board the Wales Air Ambulance are part of EMRTS Cymru. Amongst the medics on duty that day was Dr David Rawlinson.  
Dr Rawlinson said: "When we attended to Ellie she was struggling to breathe and unresponsive.  She was critically ill and required advanced interventions including warming, fluids, antibiotics and intubation.  Following delivery of these, and stabilisation, we were able to transfer her directly to specialist care in the Paediatric Intensive Care Unit at the University Hospital of Wales.  
"Prior to EMRTS, she would have been rushed by road to the local hospital with minimal treatment, and would have required a secondary transfer which would have delayed specialist care."   
A year after her rescue, Ellie and her mother visited the Charity's new airbase in Dafen, near Llanelli, to meet the medics that came to her aid.  
CCP Tracy Phipps, who was also a part of the medical team, said: "The last time we saw Ellie she was very poorly. I am so happy to see her again and that she is doing so well."  
After treatment at the University Hospital of Wales, Ellie returned home and has made good progress.  
Sarah Beard said: "I honestly thought I would lose her. When we got to the hospital on the day they told us that she literally had minutes. ​
 "It was amazing to meet the medics as I felt I didn't thank them enough at the time because I was so wrapped up with Ellie."