The path to becoming a flying lifesaver as we celebrate International Paramedics' Day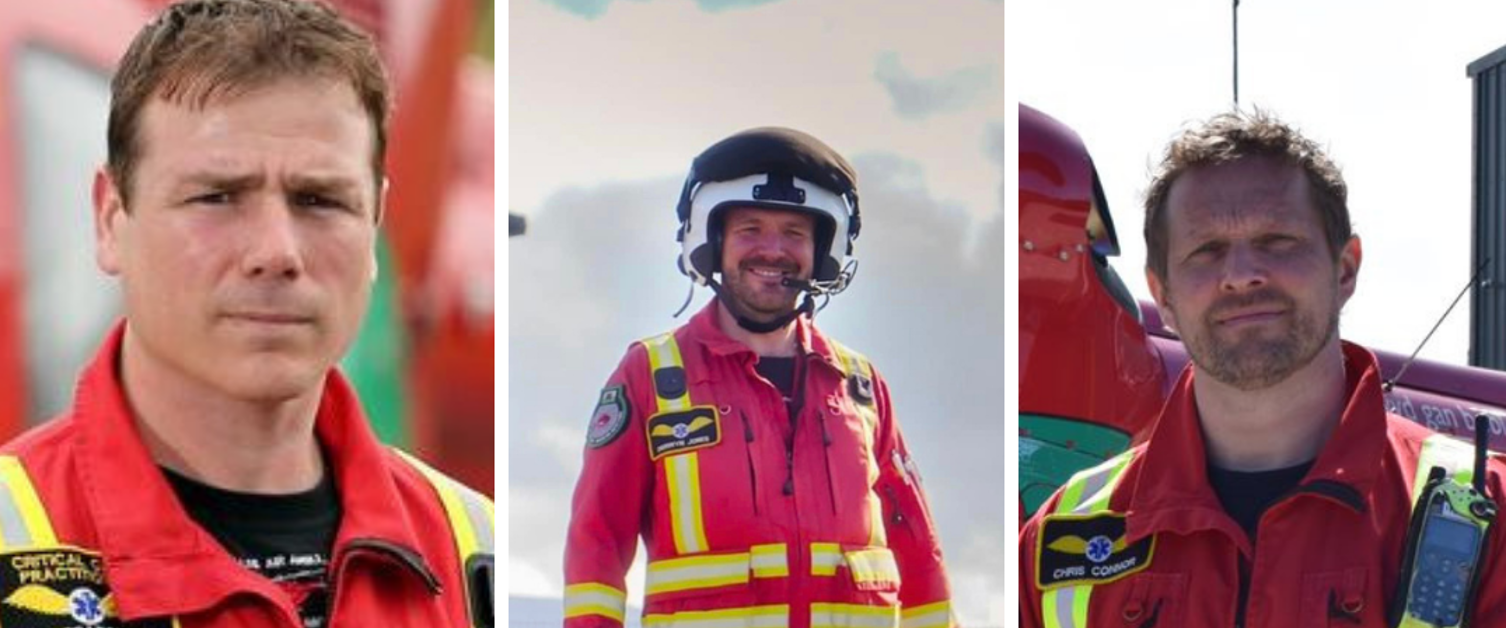 They are, simply, lifesavers.
Paramedics are the first medical experts to arrive at emergency incidents where they have to make instant life-or-death making decisions.
It's not a job for the faint-hearted.
And today marks only the second ever International Paramedics' Day, held to build a better understanding of the work carried out by paramedics all around the world.
Launched last year to take place on July 8 to mark the birthday of Dominique-Jean Larrey, the man often referred to as the 'father of modern-day ambulance services', it is run by the College of Paramedics in the UK, with support from professional paramedics' organisations from around the world.
This year's theme is 'What Paramedics Do', intended to showcase the diversity of roles paramedics work undertake.
The Emergency Medical Retrieval and Transfer Service (EMRTS) was established eight years ago, to provide a 'flying ED' service for the Wales Air Ambulance, bringing the skills and capabilities of an A&E department to the scene of an incident.
It is crewed by consultants, but also critical care practitioners (CCPs), who are nurses and paramedics who have undergone additional training, outside normal paramedic practice, in emergency, pre-hospital critical care. EMRTS currently employs 31 paramedics across Wales.
This is the story of what they do, and how some of them started – and how you could too.
Chris Connor, Education and Training Lead CCP, EMRTS Wales Air Ambulance.
"I didn't want a desk job. I was ringing around the HR departments in both the fire and ambulance services to find out when they would be recruiting next, and I hoped the fire service would be recruiting soon.
"I underwent selection for both services and whilst on my Ambulance Direct Entry Technician Training (DETT), the fire service contacted me to go for an interview. I really wanted to be a fireman but I was now already in a job. I decided to give this ambulance career a shot and then re-apply for the fire on their next recruitment phase. That was 20 years ago.
"During my DETT we had 3 weeks of driver training, of which one of the days we stopped off at an air ambulance base for a brew and debrief. On meeting the Helicopter Emergency Medical Service (HEMS) crew and chatting to them I thought to myself, 'if I'm going to stay in the ambulance service – I wouldn't mind getting onto the Air Ambulance'. I never applied for the fire service again."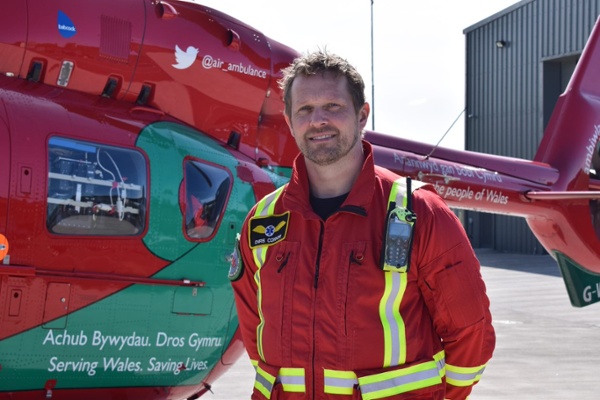 Christ spent a few years as a technician, building up a portfolio to care a career as a paramedic. He passed selection to attend the Institute of Healthcare Development training and continued to wait for a HEMS vacancy.
"I will never forget my selection day for HEMS Paramedic," he said.
"It was extremely busy and stressful, but also fun. There were so many applicants it was held over two days at the base I wanted to join and then a further two more days at another two alternative bases that were a little too far for me to commute.
"But I was in, and in 2012 after all my hard work and dedication I achieved my ambition to become a HEMS Paramedic."
After becoming a HEMS, Chris set his sights on the role of CCP when they were being developed nationally, and in 2015 had to reapply for his job – still with the air ambulance but no longer employed by the Welsh Ambulance Service Trust (WAST) but instead by Swansea Bay University Health Board. It meant more revision, more stress - and competition with already qualified CCPs. He also had to complete a MSc, obtain the Diploma in Immediate Care (RCSED), complete a comprehensive clinical competency pack (a clinical portfolio including hospital attendance), surgical skills courses, ultrasound and pass all the resus council ALS, EPALS, NLS exams. That was followed by having to complete a PGCERT in Educating Health Professionals, leading to his current post as the Education and Training Lead CCP for EMRTS, Wales Air Ambulance.
"It's a role I am extremely proud of and thoroughly enjoy," he said.
"My roles within the ambulance service and now as a Lead CCP have all been amazing – to be able to help our patients when they are having a very bad day makes all the hard work seem worthwhile in being able to help others. And in the helicopter I have the best view in the NHS."
Ben Seabourne – EMRTS Lead CCP (South Wales)
In 2004 the Welsh Ambulance Service Trust had launched a recruitment drive to plug a gap in paramedic cover across Wales. That lead to Ben signing up as a non-emergency working operative before commencing Emergency Medical Technician training in 2004. A couple of years of operational experience, led him to start his paramedic course in January 2007, a 7-week residential course based in Abergele, North Wales.
"On completion of my paramedic training I registered with the HCPC and was 'set free' on the roads of Swansea and was based at Cwmbwrla Ambulance Station," said Ben.
"I worked for just under a year on the emergency ambulances as part of a crew before moving across to the rapid response vehicle (RRV) rota in early 2008. This is where I gained the majority of my operational experience as a paramedic, responding to category emergencies as a solo responder, the most serious and urgent. Whilst this put me in situations I may not have been prepared for as a fairly newly qualified paramedic, it forced me to develop my clinical decision making and further my professional education and development."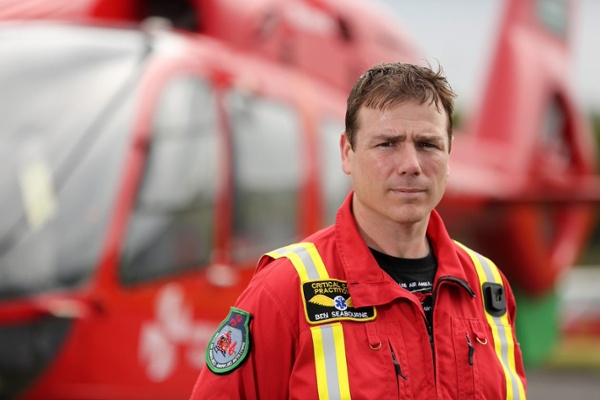 This experience under his belt led to a secondment in 2010 to the Cardiff and Vale area, working from Barry Ambulance Station, providing a fresh perspective of emergency care in a busy urban area. The following year Ben applied to work as a HEMS paramedic with the WAA.
"I was shortlisted for the selection but unfortunately was unsuccessful," said Ben.
"This was a difficult rejection as HEMS was something I had wanted to do for a long time, but in retrospect I wasn't ready and had areas of my practice I needed to develop along with my professional maturity.
"Then in June 2012, an opportunity came up for a position with WAA in Welshpool Airbase. On this occasion I was successful and gladly took the offer. For three years I worked as a HEMS paramedic and was lucky enough to work alongside really great people and clinicians, all of whom have contributed to my own development. I was also lucky enough to work across all WAA platforms, giving me invaluable experience of all regions and hospitals across Wales, along with the unique challenges faced in each."
Like Chris, Ben wanted to further develop his skills, and applied for a CCP position with EMRTS. He landed a position at its initial base at Swansea Airport.
"This was a massive learning curve, going from a double paramedic model to a consultant / CCP crew, delivering the full gambit of critical care. Those first few years as a CCP were a bit of a whirlwind but thankfully I had excellent colleagues who provided much needed training and mentorship. This was all done alongside an MSc and multiple professional qualifications which demanded a huge amount of time and energy.
"I was later thrust into a leadership position with EMRTS with a secondment as a clinical team leader. This was a new experience for me but something that has taught me so much over the past several years. My current role has continually challenged me and enabled me to develop myself and my own career.
"When I reflect on my journey as a paramedic, I'm not sure I envisaged being where I am now or the profession developing to the point it has either. All the achievements and milestones I have passed would not have been possible without the support of a wide range of professionals and clinicians. It makes me proud to still refer to myself as a paramedic and my journey and training has provided me with the foundation for my practice.
"The future for new paramedics is bright with opportunities across more areas of specialty than ever before including critical care. If I had any words of advice for potential CCPs it would be to focus on becoming a really good paramedic first, and the rest will follow. Use any opportunities to learn and don't be afraid to question your own practice. Once you have built your foundation of knowledge, the ability to branch in to areas of specialty becomes easier."
Derwyn Jones – EMRTS Critical Care Practitioner (Paramedic)
"Following a brief period as a retained firefighter I worked alongside a paramedic in a nasty road traffic collision," said Derwyn.
"I remember getting home and thinking, 'I want to that job'. My journey started in September 2010, where I attended an access to science diploma at the local college. Completion of the diploma made me eligible to apply for a paramedic course at a university. Fortunately, I secured a place at my first choice and went on to study paramedic science at Swansea University."
As a newly qualified HCPC Paramedic, Derwyn began his career with WAST, working in Aneurin Bevan North, predominantly at Bargoed Ambulance Station. Being so close to Wales's capital city provided a baptism of fire and he had no choice but to hit the ground running. Hailing from north Wales, he was able to head 'home' when a transfer request was granted in 2015, where he settled into his new station at Caernarfon. Three years followed, working both the ambulance and rapid response vehicle (RRV) rota.
"Despite my enjoyment in the role of a paramedic, my heart was set on working on the air ambulance. The fast paced, ever-changing challenge of treating the sickest and most injured patients was something I aspired to do.
"I remember hearing about EMRTS and CCPs and doctors in a coffee room on station, and working on board the Wales Air Ambulance sounded like my dream job. The following days I researched the role of the CCP. I realised my portfolio at the time wasn't sufficient, so I made sure I took every opportunity to strengthen my CV and experience to support any future applications.
"Following a couple of unsuccessful applications, I finally made the grade and was appointed as a CCP in Wales back in July 2019. This role continues to challenge me every day, the learning is endless, and I'm often out of my comfort zone, something that is very important to me as it enables me to grow, both as a person and clinician.
"Working on the air ambulance is a dream come true, providing critical care to the people of Wales in their hour of need is humbling, and most certainly a privilege that I always remind myself of."
To find out more about working as a paramedic, visit: Home (collegeofparamedics.co.uk)
The air ambulance service in Wales is delivered via a unique Third Sector and Public Sector partnership. The Wales Air Ambulance Charity relies on public donations to raise the £8 million required every year to keep the helicopters in the air and rapid response vehicles on the road. The Emergency Medical Retrieval and Transfer Service (EMRTS Cymru) supplies highly skilled NHS consultants and critical care practitioners who work on board the Charity's vehicles.