Nurses and paramedics learn extra emergency skills by working alongside 'flying A&E' medics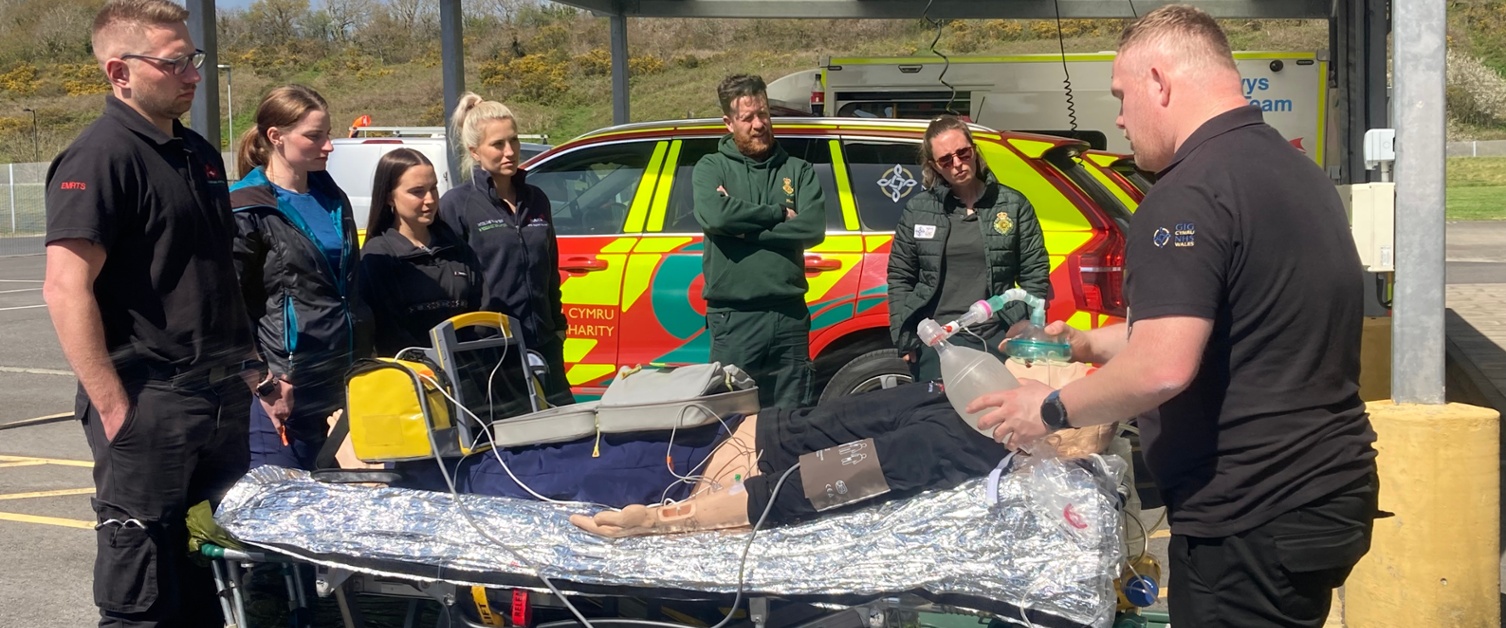 Paramedics and nurses have been learning extra emergency skills – and jumping over fences, climbing into aircraft and treating stab victims.
The volunteers have been working alongside experienced Emergency Medical Retrieval and Transfer Service (EMRTS) medics to gain first-hand experience of critical incidents and first responses to medical emergencies.
These include traffic accidents, stabbings, cardiac arrests and other emergency incidents.
EMRTS is the 'flying A&E' service which accompanies Wales Air Ambulance – bringing the expertise and abilities of an emergency department to the scene of emergency incidents. Its Critical Care Practitioner Fellowship Programme provides the volunteers a greater understanding of the challenges of working in critical situations treating patients before they arrive at hospital.
Retrieval and transfer practitioner (RTP) Meryl Jenkins, an intensive care nurse with Hywel Dda University Health Board, took part in last year's programme.
She said: "I had an extensive background within critical care and some experience of A&E but no pre-hospital experience.
"So I was keen to take the opportunity of the Fellowship when it came up and learn more about delivering high quality critical care at the roadside or wherever it might be.
"The most amazing feeling was not knowing what scene you were going to go to and what you would be faced with on arrival.
"Your heart rate would increase as you were either taking off in the helicopter or getting into that Rapid Response Vehicle.
"You'd be blue lighting, but have minimal information, and would not know what you were going to be faced with when you got there.
"On one occasion I had to climb over a high railway fence with one of the team behind me trying to push me over, and a senior paramedic trying to catch me on the other side to make sure I could get to the patient safely.
"On another I had to assess a patient under a train when deemed safe to approach to enable us to extricate him safely for further treatment and ongoing care.
"I attended multiple road traffic collisions. These scenarios taught me the importance of the initial patient assessment, the stabilisation piece and the need to make a plan of where you would be taking the patient within the first few minutes in order for them to get the best possible care.
"I learnt a lot about blood products, and about the ongoing assessment of when to give blood on scene, about paediatrics, which threw me out of my comfort zone coming from an adult background.
"The Fellowship enabled me to use the clinical skills I have obtained over the years within hospital and adapt them to pre-hospital.
"One of the challenges I found was how much do you do on scene and when it's the right time to go and these skills were further developed on the Fellowship.
"The Critical Care Hub manages emergency medical calls and makes decisions on when to deploy, coordinating responses from aircraft or RRVs, and I learnt how much you rely on them and how they keep you safe, as well as the importance of radio and communication.
"It was a steep learning curve but I feel I took a lot away from the jobs I attended. This was all down to the excellent mentoring, leadership and guidance from the EMRTS team.
"I now have a greater appreciation and understanding of the challenges of working in a pre-hospital environment.
"As a team you have everything you need in your kit to deliver what you need to deliver and get your patients where they need to go."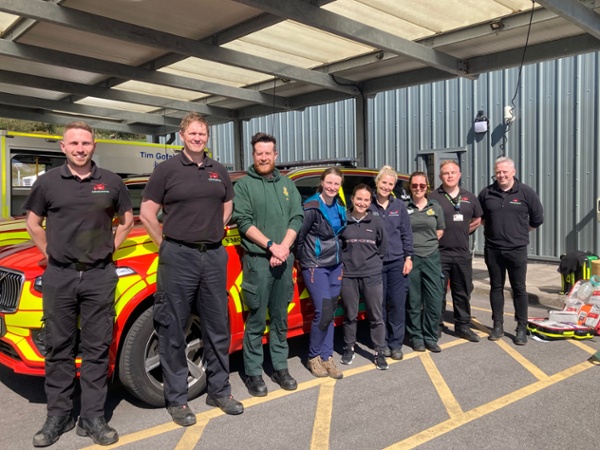 RTP Hannah Wren, a former paediatric intensive care nurse, who also took part in the Fellowship last year, said: "I applied for it because I was keen to have some pre-hospital exposure.
"We were used to working relationships with the Welsh Ambulance Service Trust, but the scene management at an incident often meant you have fire and police officers on the scene, so we would work with them, and learnt about their abilities and the support they can give you in terms of providing patient care.
"You were constantly learning from the most complex of clinical cases to getting the basics right such as getting your helmet on and off, and getting out of the aircraft safely.
"We faced a fair share of trauma – one particular memory is a patient with a number of stab wounds, who still had the knife in him.
"That was an interesting job in terms of resuscitation with blood products and point of care ultrasound to manage the patient en route to hospital.
"Ironically, despite having a background in paediatrics, I think the youngest patient I got was 16 which was probably an adult in my eyes.
"There were a lot of challenges, but it was really positive. We are used to assessing sick patients but doing it in some of the environments made it more interesting and challenging.
"I managed to spend some time at the ECCH which was interesting in terms of what is classified as immediate dispatch and what would maybe need further examination. The desk were brilliant, they were kind of a safety net, and someone to sense check.
"The biggest thing for me was learning to be resourceful and think outside the box. There is no pre-hospital exposure during your nurse training so it can be difficult to gain experience in this field, so it felt privileged to be given this opportunity.
"Coming from a highly stressed, very clinical ITU, it does challenge you as you don't have a perfectly arranged clinical field to be setting up a nice area for a surgical skill or to deliver blood or fluids, so you do have to be clever think outside the box, but also prioritise what needs to be done.
"It was useful to see the pre-hospital side because we are already used to the perspective of critical care of a patient, and I think that helps with preparing the families and giving them an insight into what is going to happen next when they get to hospital.
"I also got a great appreciation of when to attend an incident by helicopter and when to travel by road. A lot of people assume going by helicopter will get you there quicker, but a lot of logistics go into the planning, from having a safe landing site for the helicopter, to getting the patient from the site to the helicopter, and what clinical interventions the patient may require en route.
"Sometimes going by road has its advantages in that you can access the patient from any angle, and you can divert should you need to, once you are up in the air things are ten times harder. It opened my eyes to weighing up your options and being realistic about what can be achieved on both those platforms.
"I was in awe of the fact you are a small team, but it is amazing what tasks can be carried out in a really short space of time."
The Fellowship programme allows volunteers to work across the four bases EMRTS shares with the Wales Air Ambulance in Cardiff and Dafen in South Wales, and Welshpool and Caernarfon in the north.
EMRTS, which is hosted by Swansea Bay UHB, was created to work with the air ambulance in 2015, and in that time has attended 19,000 incidents, saving numerous lives.
Dafen-based CCP education and training lead Chris Connor said: "The Fellowship is an opportunity to give clinicians exposure to and experience of critical care in a pre-hospital environment.
"It is the second year we have run it, and each time we have taken on five CCPfs, across all the bases. It provides an opportunity to see at first-hand how critical care teams work, and how they work alongside EMRTS critical care teams."
Helping this year's volunteers is WAST paramedic Will Palmer, who took part in the first Fellowship programme last year, and returned to support this year's volunteers.
He said: "The Fellowship gave me massive exposure to stuff that would have taken years to see in the ambulance service. There was a high degree of training which led me on to other things.
"I have taken that practice back to WAST where I have been able to show to others what I learnt, and I'm able to use it with great effect with patients, who have benefited from the skills I was taught."