Motorcyclist getting back in the saddle after traffic accident to thank brain injury unit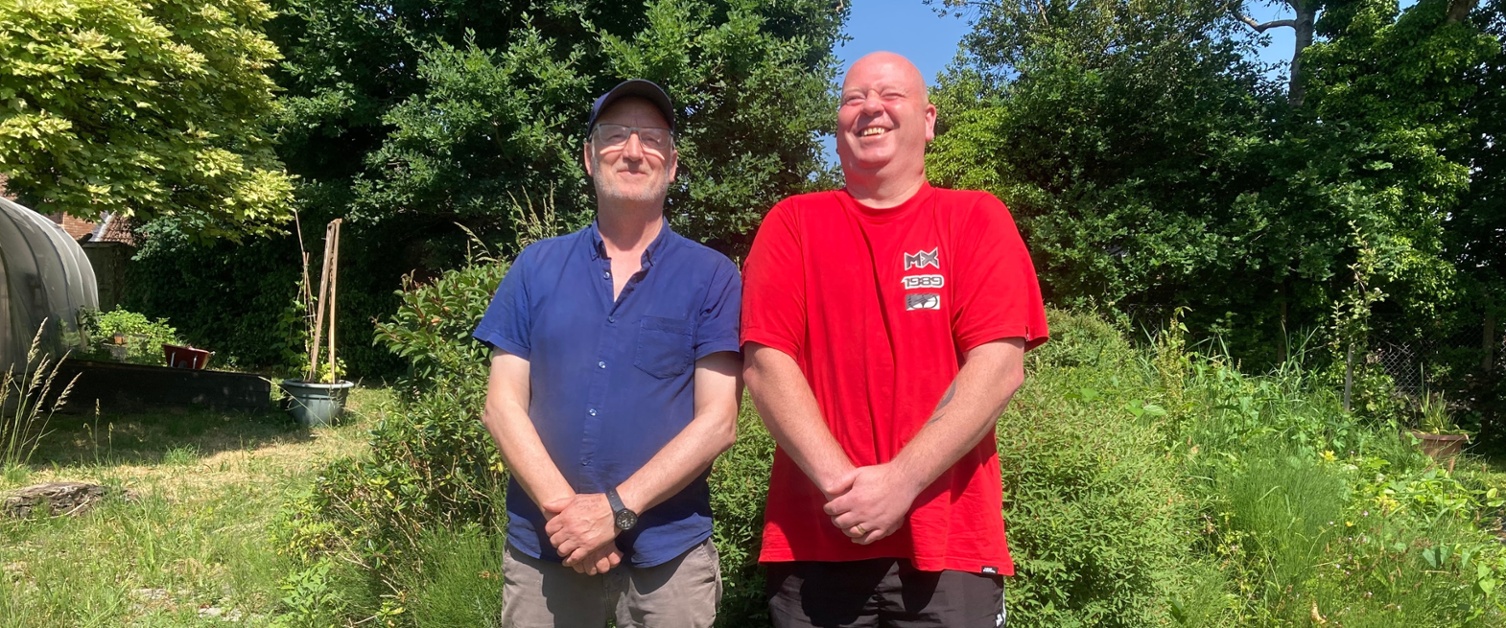 A motorcyclist who suffered a serious brain injury after coming off his bike is getting back in the saddle to help those who have supported him on his road to recovery.
Darren Lewis was thrown from his motorbike while riding in Mumbles in May 2021 after a dog dashed out between two parked cars, causing him to crash.
He was treated at the scene by EMRTS medics – the flying A&E service which accompanies Wales Air Ambulance - which sent a crew and helicopter from Welshpool, and a rapid response vehicle from Dafen, before being airlifted to University Hospital of Wales in Cardiff.
His skull had been fractured in five places, and he suffered a life-changing traumatic brain injury, spending two weeks in Cardiff before being transferred to the Neuro-rehabilitation Unit at Neath Port Talbot Hospital.
Although he has made significant progress, he continues to experience difficulties that affect his daily life, and which will remain life-long. But he has been supported by the Community Brain Injury Service, which provides speech and language therapy, occupational therapy, clinical psychology, rehabilitation and music therapy.
Despite the challenges he still faces, Darren has been back on a bike, only this time without an engine. He has been training for a bike ride, from Dunvant Rugby Club to Knab Rock in Mumbles and back, to raise funds for the brain injury unit – and will be joined by one of the staff who have helped him.
The dad-of-one, from Penplas in Swansea, said: "One minute I remembered being on the road on my bike, the next I was in the hospital in Cardiff.
"I don't know what would have happened if the air ambulance and EMRTS hadn't been able to get to me."
Brain injury can affect a person's cognition (the way we think, learn, and remember), and since the accident Darren has experienced difficulty with his memory, concentration and speech. He initially experienced dizzy spells when standing as well as hearing loss, which impacted his balance and mobility. He has also experienced fatigue, one of the most common effects of brain injury, and it can also result in mood swings, irritability, frustration and anger.
The 48-year-old used to work as a security officer, at venues including Swansea University, but his injury has meant he has had to give up employment.
"The injury affected by balance, I'm deaf in one ear so people have to stand on my left hand side to speak to me, and it has affected my temperament and I snap at people," he said.
"I used to get up, go to work, do what I had to do, and I have been trying to back to a routine and get out and about, but there are days when I just can't be bothered.
"I've been told it is unlikely I will be able to go back to doing what I used to do, and doing something standing up like stacking shelves will be difficult because I have dizzy spells, and my memory is gone, so I don't know who would take me on. At the moment my wife Joanne is supporting all of us. She and my son Deon have been my rock over the past two years and I'm so grateful to them.
"But the Community Brain Injury Service has been great support. I have helped build a shed with rehab specialist Rob May, who is doing the cycle ride with me, and other people who have had head injuries, and that has helped me, really brought me out of my shell.
"I've been doing some rowing, and I started going out on a push bike a few months ago, so I came up with the idea of the bike ride.
"I want to raise money to say thank you to the service for everything they have done for me.
"They don't get the acknowledgement that other units like cancer and cardiac services do, but without them I think I would have given up. I don't think I would be here".
Rob May, generic technician with the Traumatic Brain Injury Service, said: "Darren has worked with the Community Brain Injury Service for the past eighteen months. It is fantastic to see the steady progress he is making."
Cathy Stevens, support officer for Swansea Bay Health Charity, added: "I'm so proud of Darren for taking on this challenge. It is really humbling to see that he wishes to thank our staff for the care and support they have given him since his accident which is only two years ago. Darren is inspirational and I hope he has the best day out on his bike."
Darren and Rob will be tackling their cycling challenge on Saturday, June 24, from 11am.
To donate, visit: Cathy Stevens is fundraising for Swansea Bay University LHB Charitable Fund and Other Related Charities (justgiving.com)
If you feel inspired to fundraise for your local NHS, please contact the team on swanseabay.healthcharity@wales.nhs.uk
The Traumatic Brain Injury Service fund is one of hundreds of individual funds that come under the umbrella of Swansea Bay Health Charity.
This is the health board's official charity. Money raised is used for equipment, staff training, research and special projects for the benefit of our patients and staff, above and beyond what the NHS can provide.
The air ambulance service in Wales is delivered via a unique Third Sector and Public Sector partnership. The Wales Air Ambulance Charity relies on public donations to raise the £8 million required every year to keep the helicopters in the air and rapid response vehicles on the road. The Emergency Medical Retrieval and Transfer Service (EMRTS Cymru) supplies highly skilled NHS consultants and critical care practitioners who work on board the Charity's vehicles.
Pictured: Darren, right, with Rob May