EMRTS crew treat patient who fell down restaurant stairs and suffered traumatic brain injury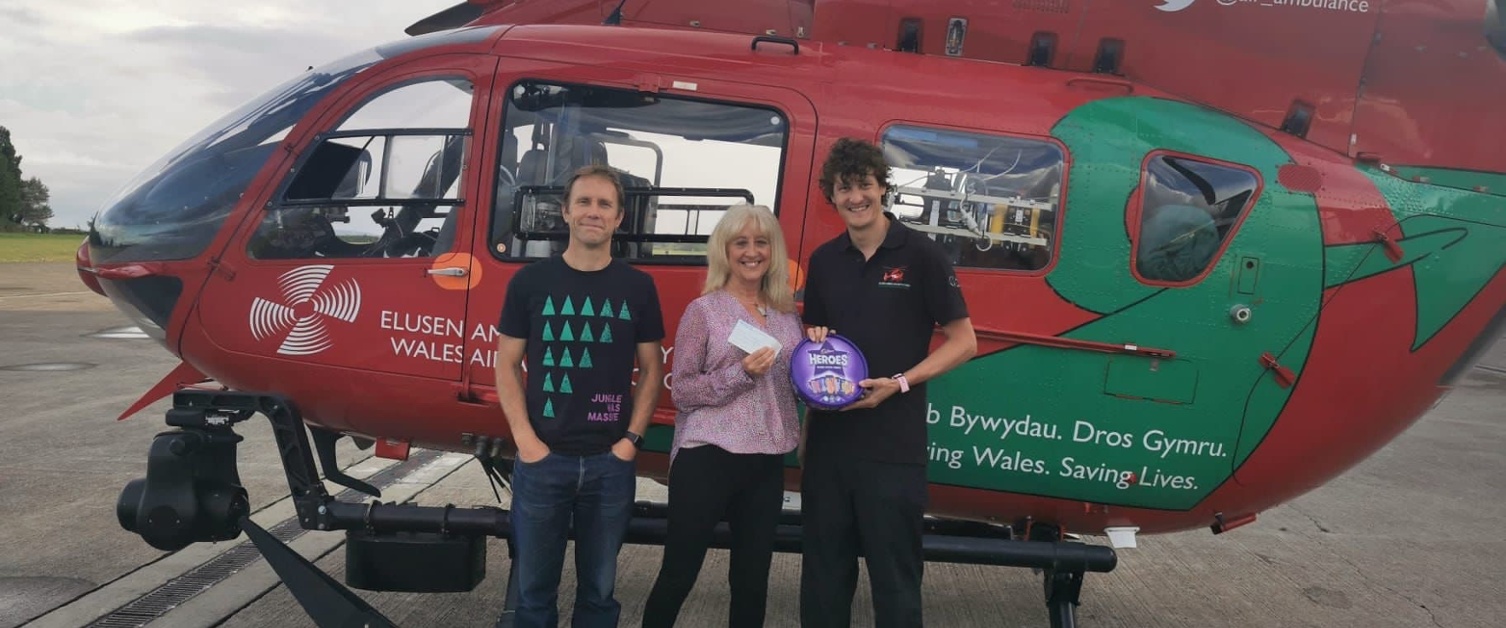 A retired NHS worker who fractured her skull after falling down stairs has paid tribute to the team which saved her life on the second anniversary of her accident.
Margaret Perkins was visiting a popular restaurant in Cardiff city centre when she lost her footing and fell – and woke up days later in intensive care.
An EMRTS crew from Cardiff attended the venue and Margaret was taken to University of Wales Hospital, where she spent 12 days in the intensive care unit, eight in an induced coma.
Now, two years on from her accident, she has paid thanks to the medics whose quick actions helped save her life.
She said: "I visited the WAA just a few months after my accident to thank those involved, but everyone who looked after me deserves a medal; from the person who called 999 at the restaurant, to the Wales Air Ambulance team, to everyone at UHW from the consultants, healthcare support workers, nurses and porters.
"Without the care, help and ongoing support, I would not have made the recovery I have. Not only did I receive invaluable care, but my family who were concerned for my wellbeing and unable to visit me due to COVID-19 restrictions, were regularly supported and informed of my progress by incredibly busy teams whose main priority is delivering patient care."
Margaret was visiting the Cardiff restaurant on May 18 in 2021, and had left her group of friends to use the facilities, which are accessible via a series of steps. Upon reaching the last one, she lost her footing and fell.
An ambulance crew from a nearby street was first on the scene, but realising the severity of Margaret's injuries, an EMRTS crew was called, which arrived in a Wales Air Ambulance rapid response vehicle. Assessing the seriousness of her head injury, they gave her a general anaesthetic at the scene to stabilise her and protect her brain from further injury. She was then transferred to University Hospital of Wales by ambulance, escorted by the EMRTS crew.
A CT scan revealed Margaret had sustained a traumatic brain injury and skull fractures. The severity of her injuries necessitate eight days in an induced coma, and a further four in critical care. She remained in hospital for almost a month before being discharged to return home to her family.
Margaret spent more than 40 years working for the NHS; for many years as a biomedical scientist and then as a point of care coordinator with Cardiff and Vale University Health Board.
She said: "I have no memory of the incident itself. I think I had come downstairs and the last banister finished before the last step and that's when I fell. I opened my eyes and I was in critical care.
"I didn't realise how bad it had been. My family were told I might not survive the night, or that if I came round I might not be able to talk. I was anaesthetised in the restaurant there and then.
"I fully understand the pressure that comes with the environment. One thing that was clear was every member of staff is committed to supporting patients and ensuring they receive the care they need. "There is not a word that is big enough to express my thanks and gratitude to the teams who helped to save my life that day."
Last year, Margaret returned to the hospital to thank some of the staff who had treated her.
Lisa Green, senior nurse with major trauma, said: "We often see patients at their very worst and we do what we can to help them while they are with us in the unit. Once they get better, or move to another ward within the hospital, we do not often get to see the progress they have made – which is a good thing, as it means they do not need intensive treatment. It is wonderful to see the recovery Margaret has made following such a traumatic injury and to be able to see how well she is doing and hearing stories of her grandchildren is the reason why we all come to work every day and do the job we love, despite the challenges we face.
Margaret added: "I have no recollection of the incident, but I know I fractured my skull at the back, and experienced a subdural haematoma. If the crew hadn't got to me as fast as they did, it could have been a very different outcome.
"I was worried I wouldn't be able to play or run after my grandchildren. I wore an eye patch for a few months, and I did not know if my eyesight would come back. Fortunately, my eyesight has returned to normal.
"I wanted to thank each and every one of the team that supported me, although that is not enough. They are all heroes to me".